Future Champions update March 1, 2021.

 
Camp dates: August 16-20, 2021   
Ages: U12-U19
Camp format:  1 ice time and 1 fitness session.
Registration is scheduled to open April 1st, 2021.
Strathcona County has not solified summer ice and therefore the above is subject to change.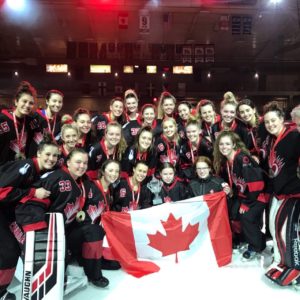 World Junior Ringette Champions – Nov 2019
Lorrie Horne's Future Champions RIngette Camp and Programs are
dedicated to the development of ringette players of all skill levels.
Our focus is to teach athletes aiming to learn, improve, and excel in ringette through a positive, fun, and enjoyable learning environment. Athletes will learn to execute each fundamental skill correctly and as a result bring measurable improvement in their level of play. Future Champions utilizes teaching and training methods specifically designed for building a solid foundation of ringette skills in young players while giving more established players the tools and training they need to take their game to the next level.
Lorrie Horne inducted into the Ringette Canada Hall of Fame for Coaching